I have the internet back again! :) Now I can continue my plans for world domination unheeded.

As well as the internet, the last week has seen me finally purchase a decent vacuum cleaner (I'm still appreciating how clean my rug is), have my hair cut short and mohawk-like and my new mortuary sword from Armour Class arrived.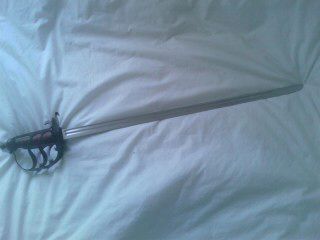 Whilst it is very pretty, I may have the blade ground down as the point of balance is too far forward for my liking. I also need to sort myself out with a decent vambrace.

Other than that, life is continuing at it's usual pace and I am slowly learning to appreciate Facebook.